Top 10 Reasons to go to Sunday Brunch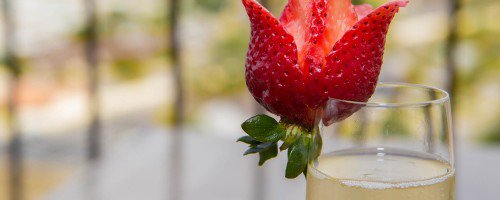 September 19, 2012
There are so many wonderful places for Sunday brunch in San Gabriel that it is a shame if you don't go at least once a month. Sure, no one wants to get out of bed on a Sunday morning if they don't have to, but one of the best places to find champagne Sunday brunch near Los Angeles is at Almansor Court and they serve until 2:00. That means you can have your sleep, and eat well too!
Here are 10 reasons to go to Sunday brunch in the San Gabriel Valley.
1. It's Not a Work Day
For most people, Sunday isn't a work day. That means you can eat whenever you want. What other day of the week can you sleep until noon and then head off for a fabulous brunch? Take advantage of this day off to spoil yourself and have a meal with a friend you might not be able to see for the rest of the busy work week.
2. You Won't Have to Clean Up
If this was the only reason on the list, it would be enough. You won't have to clear the table, wash the dishes or even put the carton of orange juice back in the refrigerator. You have but one job: to eat some of the best Sunday brunch offerings in all of Los Angeles.
3. You'll Be Full ALL Day
While you would probably have to stop short of claiming that a scrumptious Sunday brunch is part of your diet plan (although there ARE plenty of healthy choices), you will likely be full for the rest of the day. That means not only can you skip cooking breakfast, but you probably won't need to cook for the entire day.
4. So Many Choices
One of the best choices for champagne Sunday brunch near Los Angeles offers an extensive menu of items you might be surprised to find on a brunch menu. Sure, the expected choices, such as omelets and waffles are there, but seafood, salad and indulgent desserts are included as well.
5. There's a Coupon!
The best champagne Sunday brunch near Los Angeles is found at Almansor Court in Alhambra. The prices are already more than reasonable. Adults pay just $22.95 and children ages 3-10 pay $5.95. Add to that the coupon that can be downloaded from the Web site and you have a gourmet Sunday brunch that's a steal!
6. It's an After-Church Treat
Make Sunday's fun by starting a tradition of going to Sunday brunch after church. As mentioned earlier, the brunch continues until 2:00, so even if you get out of church a bit late you'll still have plenty of time to make it to brunch.
7. Your Waffles Never Turn Out This Good
It doesn't matter how good of a cook you are, it would be tough to match the skill of the chefs that create the menu for the Sunday brunch at Almansor Court. Everything on the menu is made to the highest standards. It really is some of the best food around.
8. Wonderful Service
Sure the food is fabulous, but so is the service. In addition to enjoying some of best breakfast and lunch choices in the county, you will be treated like royalty the whole time as well.
9. Start the Week Off Right
Everyone dreads going back to work on Monday. Why not ease your sorrows by treating yourself to one last hurrah before heading back to work. Sunday brunch is a way to start your week off in a pleasant way so that you will be ready to face whatever Monday may bring.
10. Champagne!
The Sunday brunch at Almansor Court also includes delicious breakfast cocktails. Head to Sunday brunch and enjoy your first chance of the week to eat, drink and be merry!